Finnish and Estonian health tech startups showcased their high-level innovation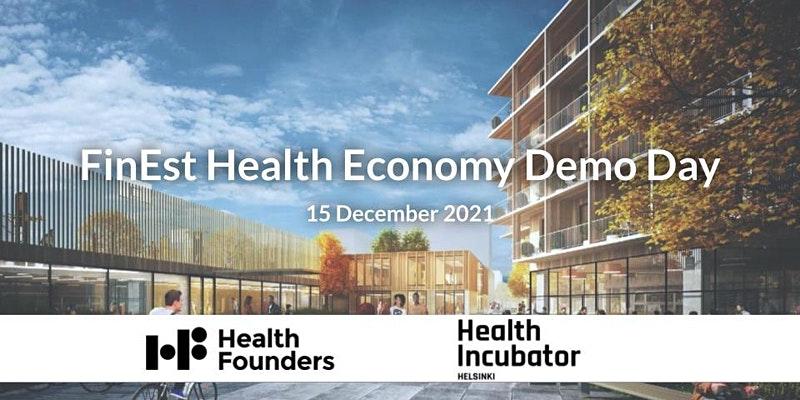 Finnish-Estonian Health Economy Demo Day brought together investors, startups and health ecosystem players from the cross-border region to hear the pitches of eight promising health tech startups. The investor jury awarded Phonolyser (FIN) and Neurosalience (EST) as winners, and praised the high quality of the pitching companies. 
The Health Economy Demo Day, organised in December 2021 for the second time by Health Incubator Helsinki and Health Founders from Tallinn, aims to bring Finnish and Estonian health innovation ecosystems closer together and give investors a view of the region's most promising early-stage health tech startups at one glance. Read more about the event here.
In the event, eight high-potential startups pitched their innovation: AnalysisMode, Cardiomtec, Henkaus and Phonolyser from Finland, and Dermtest, Nanordica Medical, Neurosalience and .life from Estonia.
In addition, the nearly 130 registrees had the opportunity to follow a panel discussion with investors Shinichi Nikkuni (NordicNinja VC) and Ed Deng (Verge HealthTech Fund), moderated by Health Founders' Erki Mölder.
Interested in the pitches or the panel discussion? View the event recording here.
Phonolyser and Neurosalience for the win
After Q&A with each company, the jury chose Phonolyser (FIN) and Neurosalience (EST) as the two winners. The active, esteemed jury consisted of four investors: Juha Lindfors (Lifeline Ventures), Marko Kuisma (Courage Ventures Funds), Scarlett Chen (Prudential Corporation Asia) and Andrus Oks (Tera Ventures).
Congratulations to the winners of the event: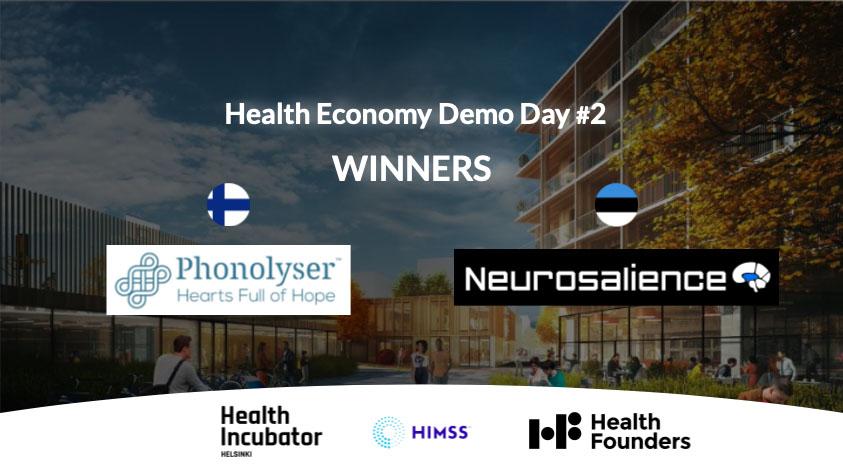 Neurosalience, pitched by Co-Founder, CEO Ksenia Sokolova, is a tool for early detection of dementia from structural MRI and CT data capable of processing even low-resolution MRI data and CT scans.
"We at Neurosalience were pleasantly surprised that we won the award. The Demo Day was a great experience and also extremely useful for us as Neurosaliance received great traction and many new connections. The event would definitely benefit us as we are preparing for the first investment round", says Ksenia Sokolova, Neurosalience.
Phonolyser, pitched by CBO Bahman Doaeian, is a smart heart sound analyzer that combines AI (signal processing and analyzing), doppler-technology, and sound analysis to comprehensively assess and investigate the existence of CHD (Congenital Heart Disease) on children.
"Saving children with heart disease is our goal and we are thankful for providing us with a platform that helps reach this cause," comments Bahman Doaeian, Phonolyser.
Great health tech pioneering work in Finland and Estonia
The investor juri was pleased to see the high overall quality of the pitching companies. Access to capital and support are defining factors on the journey ahead for the companies.
"There's a lot of pioneering work going on both in Finland and Estonia in digital health and health tech, and that was really reflected in the presenting companies. Access to dedicated capital and support from experienced entrepreneurs will be important to capitalize on the great development done so far in these companies," says Marko Kuisma, Courage Ventures Funds.
 "Health Founders and Health Capital Helsinki teams did a great job selecting the high calibre companies and preparing each for the pitch," adds Scarlett Chen, Prudential Corporation Asia.
Thank you to the startups, jury, speakers, and participating investors and audience for tuning in and making the event a success. The collaboration between Helsinki Metropolitan region and Tallinn health ecosystems continues, and we welcome everyone onboard.
Health Incubator Helsinki is a comprehensive incubator program in Finland for research-based, early-stage teams and startups operating in the health sector. The program is currently a home for 24 promising teams.
Health Founders is the first health economy accelerator in the Baltics with a mission to launch 100 new health tech companies over the next 10 years. Based in Tallinn, Estonia, the unique program brings together ambitious founders, experienced mentors and forward-looking industry partners to build the future of health.