Flux Polymers targets antibacterial plastic surfaces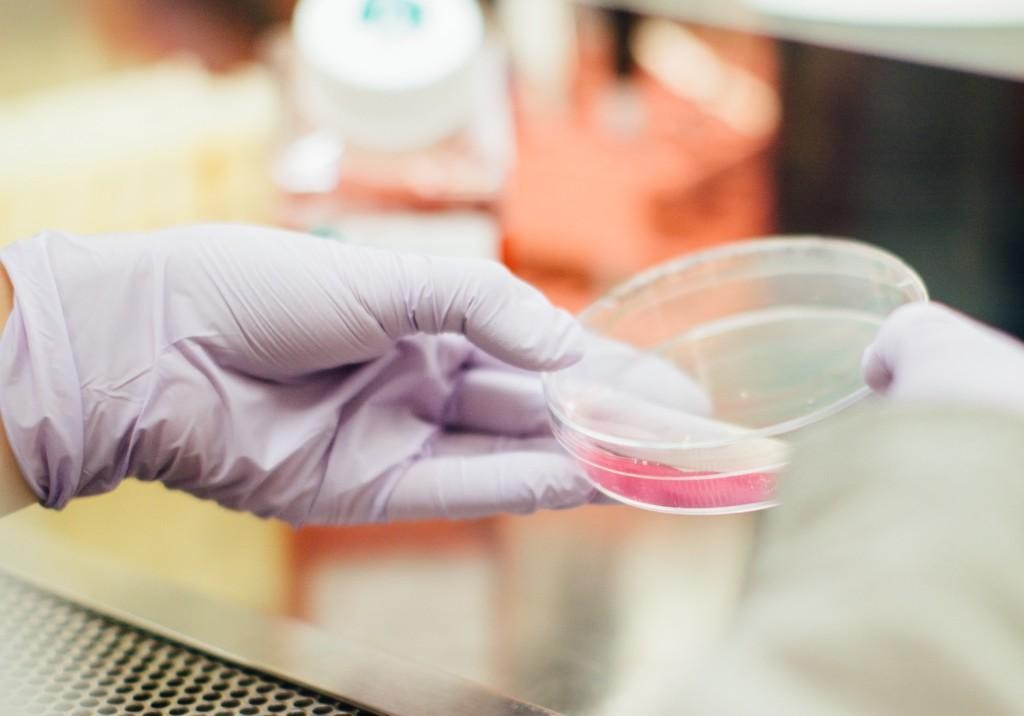 The need to keep plastic surfaces clean has been highlighted – to the extreme – by the COVID-19 crisis. Startup Flux Polymers has come up with a simple and easy way to make plastic surfaces antibacterial. The company is one of the promising startups selected for the Health Incubator Helsinki program that started in the spring of 2021.
Flux Polymers produces a polymer that can be permanently linked onto plastic surfaces by UV light, explains Dr. Anita Luxenhofer, CEO of the company.
"Our patented coating prevents the attachment of bacteria. The antibacterial effect of the coating is based on a purely physical effect, meaning that no toxic substances are released that could cause resistance in bacteria," Luxenhofer says.
To introduce anti-fouling properties on the plastic surface, the company uses a hydrophilic polymer, which is both non-toxic and biocompatible.
"Typically, the polymer can be applied on the substrate through fast and efficient spray or by dipcoating," says Joachim Schramm from Flux Polymers.
Fast, cost-efficient and permanent treatment
Through the use of simple UV irradiation, parts of the polymer react with the plastic surface, so that a permanent attachment of the coating is ensured.
"The process is fast, cost-efficient and not detrimental to the used material," confirms Anita Luxenhofer.
The hydrophilic surface finishing is suitable for various plastic substrates and renders the surface antibacterial through anti-adherence activity, thus significantly reducing biofilm formation.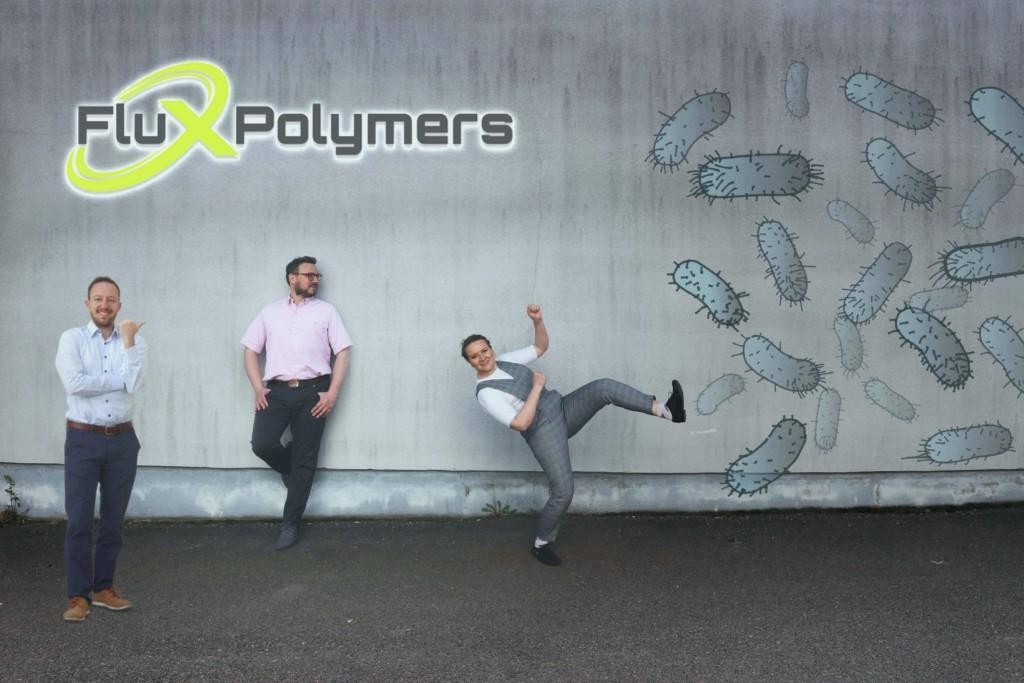 Left to right: Joachim Schramm, Robert Luxenhofer, Anita Luxenhofer.
Numerous applications – starting with healthcare
The applications of the innovation are numerous, starting with healthcare: Antibacterial coating of medical devices, application devices and hospital equipment could reduce healthcare-associated infections considerably.
Luxenhofer and Schramm refer to the medical industry as the "Holy Grail" for their company – knowing full well that their solution could do a lot of good in the healthcare sector. Still, there are challenges involved:
"The healthcare sector is so heavily regulated, that it's probably easier to make an entry to another market first," Luxenhofer says.
The potential application range seems impressive enough. In the chemical industry, coatings can be functionalised with antifouling polymers for e.g. cleaning and paint applications (non-toxic and non-leaching); clean rooms can be set up with pre-coated panels and filters to provide protection against bacteria (being both waterproof and washable); filtration solutions benefit from the antibacterial coating of filter textures and barrier membranes to reduce release of microorganisms in food, for example.
Similar "openings" exist in e.g. aviation, boating or the toy industry.
New start for the startup in the Helsinki ecosystem
Founded in 2017, the startup relies on technology developed by Anita Luxenhofer.
"The idea dates back to 2014," she says. The development of the company took on a significant new phase in 2020, as Luxenhofer's husband Robert became a professor at the University of Helsinki and the couple moved from Germany to the Nordic capital – and started integrating into the local ecosystem. Professor Robert Luxenhofer is also one of the co-founders of the company.
"Despite coronavirus, it was the perfect second start for us," she says. "I learned a lot last year and we got our patent approved in late summer."  
Flux Polymers is eager to increase its momentum. "Next up, we want to set up a lab in Helsinki and then focus our efforts on go to market," explains Joachim Schramm.
Wanted: Collaboration partners and a quick start
Equally vital is talking with various players and securing a user case for the technology.
 "We're looking for a collaboration and a quick start," says Luxenhofer, adding that some revenue is expected for 2022. 
Participating in Health Incubator Helsinki, the Flux Polymers team has been impressed with the scope of activities and quality of mentoring.
"The way the program has been helping us figure out what we need has been really awesome," Schramm says. 
According to Luxenhofer, life as a startup entrepreneur can be taxing at times, but she doesn't subscribe to the "horror stories" out there: running a startup doesn't necessarily require "150% commitment".
"If you have patience and don't give up easily, you'll be fine," she says.

Startup Fast Facts:
Name:  Flux Polymers
Product: Hydrophilic polymer that make plastic surfaces antibacterial
Founded: 2017
Team size: 3
Target customer/market: Industries benefiting from improved hygiene
Text: Sami J. Anteroinen
Photo: Flux Polymers
Cover photo: Unsplash