Health Founders and Health Incubator Helsinki are inviting you to the second FinEst Health Economy Demo Day!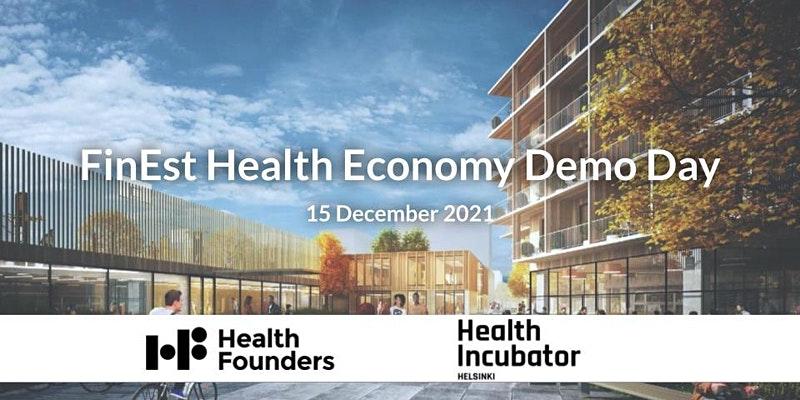 Welcome to Finnish-Estonian Health Economy Demo Day on Wed, 15 December, 2021, showcasing the rising stars of the cross-border health innovation ecosystem!
In this online event, 8 promising healthtech startups from Finland and Estonia will showcase their solutions, followed by a panel discussion with investors. Whether you're a startup, investor or just interested in healthtech innovation – save the date and sign up now!
The event is organised by Health Founders accelerator and Health Incubator Helsinki. It is a sequel to a successful first Demo Day in January 2021 that brought together over 80 investors, startups and ecosystem partners.
8 promising STARTUPS pitching at Health Economy Demo Day:
Phonolyser
AnalysisMode
Cardiomtec
Henkaus
Neurosalience
.life
Nanordica Medical
PROGRAM:
14:00 – 14:15 Welcome
14:15 – 16:00 Pitches from Health Founders & Health Incubator Helsinki teams (5 min + 5 min Q&A)
16:00 – 16:30 Panel discussion with investors
16:30 – 17:00 Awards
JURY members:
Joseph Mocanu, Managing Partner at Verge HealthTech Fund
Andrus Oks, Founding Partner at Tera Ventures
Juha Lindfors, Partner at Lifeline Ventures
Marko Kuisma, Partner at Courage Ventures Funds
Health Incubator Helsinki is a comprehensive incubator program in Finland for research-based, early-stage teams and startups operating in the health sector. Currently, there are 24 teams/startups in the program. Follow us on LinkedIn or subscribe to our newsletter!
Health Founders is the first health economy accelerator in the Baltics with a mission to launch 100 new healthtech companies over the next 10 years. Based in Tallinn, Estonia, the unique program brings together ambitious founders, experienced mentors and forward-looking industry partners to build the future of health. Find them on LinkedIn and Facebook!