Sciar is looking for investments
Health Incubator Helsinki startup Sciar Company Ltd is ready to expand. The company is now looking for funding to take their business to the next level. 
Sciar, one of the companies participating in Health Incubator Helsinki aims to change the life science industry by bringing next-generation digital tools to every scientist in every laboratory. Their Quality Management software and Augmented Reality workflow tool are created for enhancing the quality of the researcher's work as well as the quality of the data.
"This year has shown how important life sciences and laboratory work has been for the whole world. Sciar has created tools to allow faster science and processes and now we're ready to scale up and expand", says Joel Noutere, CEO of Sciar.
The company has been previously funded by Business Finland and is currently raising the late-seed/bridge round of 1M€. They are searching for investors interested in making a real impact at the root level.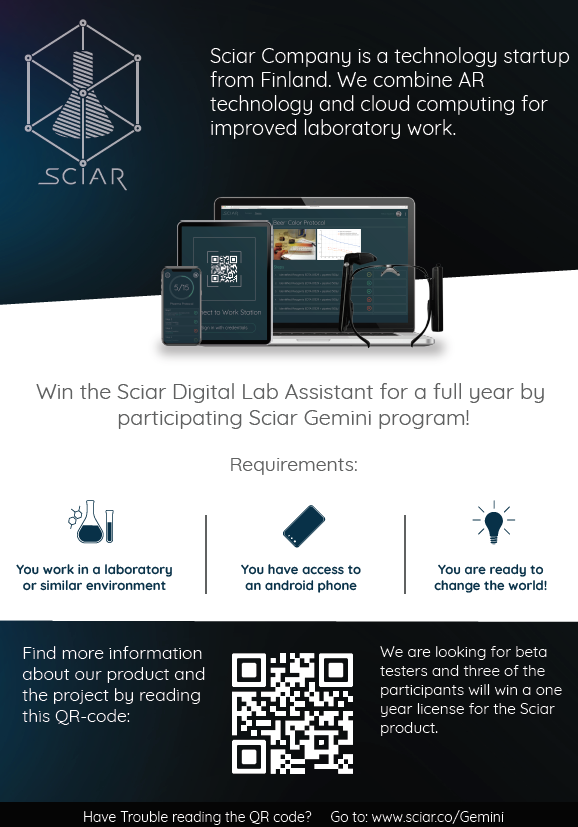 Laboratories wanted as beta-testers
In addition to funding opportunities, Sciar is looking for laboratories to test their ready product, Digital Lab Assistant. Beta testing is free of charge, and the testing period is 1 or 2 months. The users get a unique opportunity to contribute to the further development of the tool and its future features. Three of the beta testers have a chance to win a 12-month license for the Sciar Platform. Beta testing is open to all kinds of laboratories in any field.
Read more:
Sciar wants to bring better documentation to the laboratories through modern tech solutions.
Sign up for beta testing: https://sciar.co/gemini
Contact information:
Joel Noutere, CEO, Sciar Company Ltd., joel@sciar.co
https://sciar.co