First ever Estonian-Finnish showcase of potential future health tech unicorns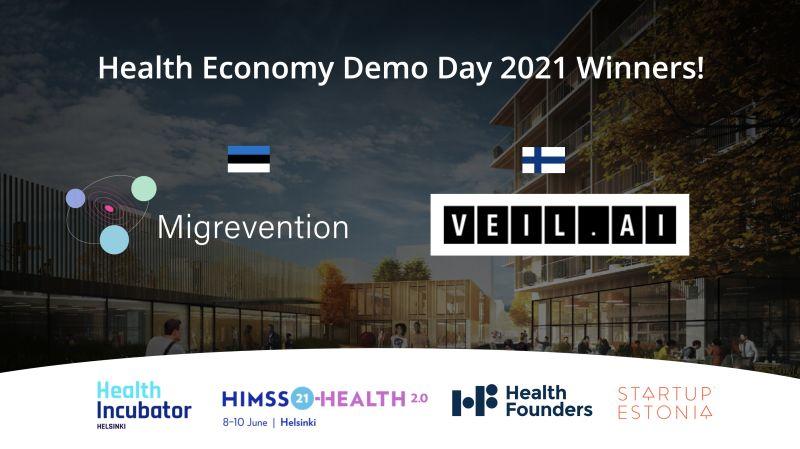 The first of its kind Estonian-Finnish Health Economy Demo Day brought together over 80 investors, startups and ecosystem partners to listen to pitches from 9 promising health technology startups.
Organized by Health Founders accelerator in Estonia and Health Incubator Helsinki in Finland, the event provided a unique and cross-boundary platform for startups and investors to connect.
"The event proved that the interest in innovative health tech solutions is at an all-time high and the Estonian-Finnish health economy ecosystem has incredible potential," said Siim Saare, Founding Partner of Health Founders.
Migrevention and VEIL.AI chosen as winners
Out of 9 teams, the two winners were Migrevention, the first fully digital headache clinic in the world and VEIL.AI that helps healthcare actors utilize valuable data in ways that were not possible before.
"It was great to see how exciting and advanced health startups there are on both sides of the Gulf. Of course, it feels good to win in this kind of competition. But even more, I see this as an opportunity to support and friendly spar each other. This event also made it clear how important it is to have organizations like Health Capital Helsinki, Health Incubator Helsinki and Health Founders," said Tuomo Pentikäinen from VEIL.AI.
"Migrevention team is grateful for the opportunity to take part in Health Founders Accelerator's and Health Incubator Helsinki's joint Demo Day. The event was a unique opportunity to introduce our idea of changing migraine management to an audience interested in health. We are honored to be selected as one of the winners by the expert jury. Above all, it shows the impact of the health care problem we are solving and the urgent need for the solution," added Katrina Laks from Migrevention.
Innovative solution to global healthcare issues
The teams were judged by an international panel of experts Dr Joseph Mocanu (Verge HealtTech Fund), Rocco van den Berg (Philips Ventures), Riku Seppälä (Icebreaker VC) and Juha Paakkola (Health Capital Helsinki). The jury appreciated the chance to see so many high-quality, innovative startups choosing to focus on serious, unaddressed problems in healthcare that affect millions of people around the world.
"Health Economy Demo Day 2021 was a great kick off for collaboration between Helsinki and Tallinn health startup ecosystems. Many of the companies pitching presented new ways to help patients and healthcare on a global scale," concluded Juha Paakkola, Health Capital Helsinki.

About Health Founders
Health Founders is the first health economy accelerator in the Baltics with a mission to launch 100 new health tech companies over the next 10 years. Based in Tallinn, Estonia, the unique program brings together ambitious founders, experienced mentors and forward-looking industry partners to build the future of health. The accelerator is open for new applications for 2021: https://healthfounders.ee
About Health Incubator Helsinki
Health Incubator Helsinki is a comprehensive incubator program in Finland for research-based, early-stage teams and start-ups operating in the health sector. The incubator, initiated by the City of Helsinki and the University of Helsinki and operating in close co-operation with Health Capital Helsinki, started operations in 2020 with a first batch of 12 brilliant start-ups under its wing. Health Incubator Helsinki is open for new applications 1-28 February 2021, read more here.