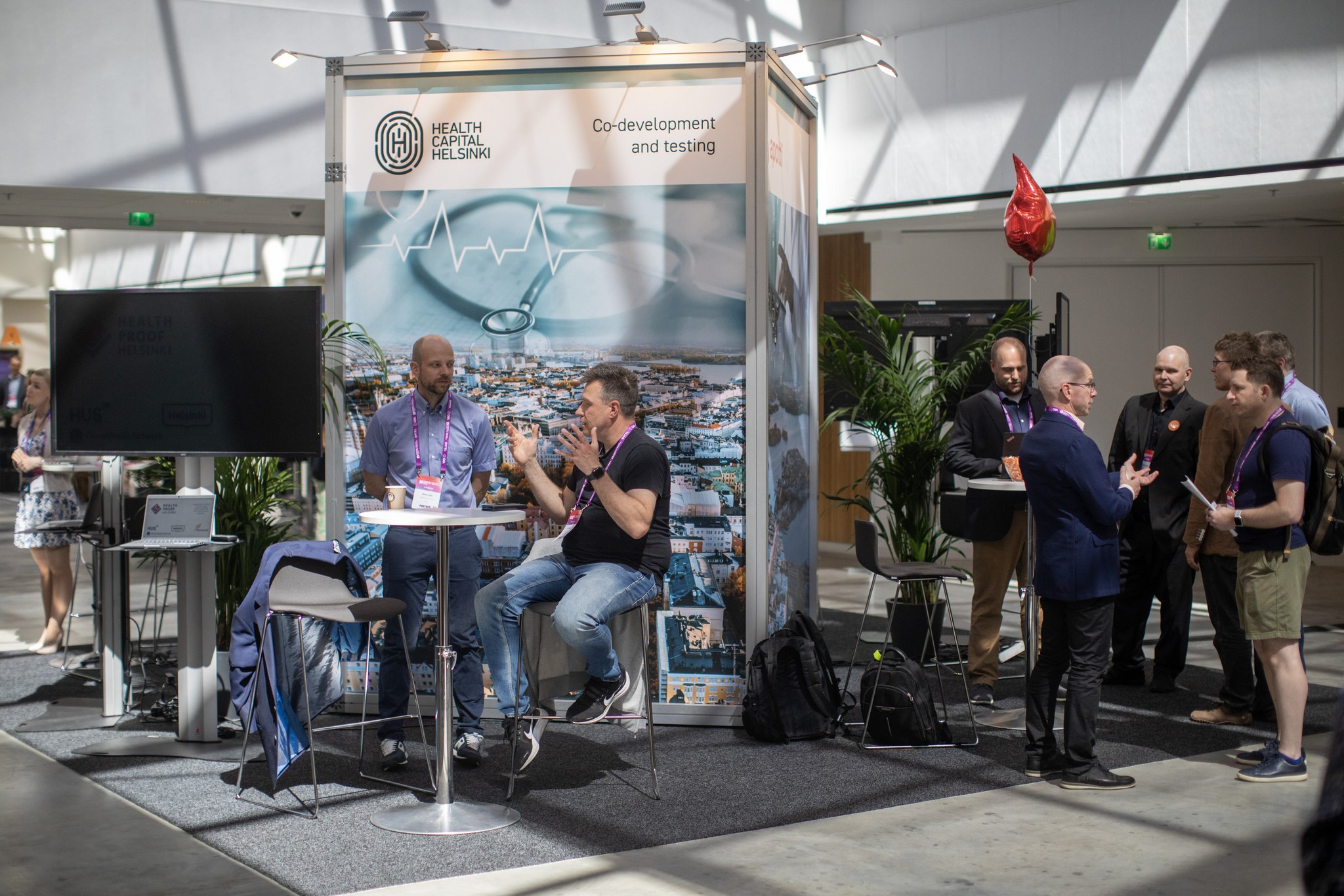 Supportive startup infrastructure, excellent clinical data, and research innovation in a number of verticals – these attributes are making Helsinki a health & life sciences city to watch.
The golden era of Finnish tech giant Nokia's mobile-phones business created an exceptional pool of talent in R&D, IT and engineering in Finland. One of the sectors that benefited most is health & life sciences. Finland is now home to some 550 growth companies in this field, more than half of which are located in the capital region.
One of these is Disior. Founded by two former Nokia engineers, the company develops software for 3D medical imaging. It has now been acquired by US orthopaedics company Paragon 28. Disior's journey from technology startup to acquisition target is testament to the support provided by Helsinki's health ecosystem.
The company grew out of Terkko Health Hub, the biggest health and life sciences startup hub in the Nordics with more than 60 startups that have collectively raised EUR 90 million in investment. The hub is also home to Health Incubator Helsinki, a three-year incubation program for research-based health startups. The program takes in 10 new promising companies each year. Applications from abroad are considered too.
"The biggest benefit of the incubator program is that we connect startups with investors and other experts who can help businesses to grow. We try to bring in companies that complement Helsinki's broader health ecosystem and that we believe can be commercially successful," says Incubator Lead Christian Lardot.
Startup support meets research excellence
Helsinki offers a wide range of public-sector support mechanisms for health & life sciences startups. The ecosystem is designed to help companies all the way from their initial research phase, through finding investment, and ultimately to international growth.
For funding, the first port-of-call for entrepreneurs is often Finland's government-run growth agency Business Finland. Between 2015 and 2023 the organisation provided almost EUR 230 million in support to under 6 years old startup companies with health & life sciences projects. In year 2022 the total amounted to EUR 28 million.
Business Helsinki helps entrepreneurs to get started in the capital region. The organisation provides advisory services on establishing a business, and introduces founders to the right innovation hubs. Business Helsinki can also identify suitable pilot projects that startups can participate in.
Many startups grow out of projects conducted within Helsinki's tight-knit research community of Aalto University, the University of Helsinki, and Finland's national research institute VTT. The innovation flow is continuous: Between 2020 and 2023, closer to 30 health and life sciences projects stemming from these institutions received research to business funding from Business Finland.
Another organisation supporting research teams is SPARK Finland. The program is designed to increase the maturity of academic and clinical discoveries towards practical and value creating solutions in the health tech and life science space.
Juha Paakkola is the Director of Health Capital Helsinki, another public body supporting the local ecosystem. He says the broad digitisation of Finland's health data makes the country a compelling location for researchers.
"Finland has an extremely strong database of health records, electronic patient records, as well as an enabling legislation for the secondary use of healthcare data in research. This provides an excellent basis for companies looking to develop advanced solutions for healthcare, including those that use artificial intelligence," says Paakkola.
HUS Helsinki University Hospital – which provides secondary care to almost two million citizens of Finland – collects all its patient data in a single data lake. CleverHealth Network is a co-development ecosystem connecting HUS researchers and companies to develop joint innovations of this data. Testing Environments and Expert Services for Companies in the Field of Health and Medical Technology are provided by Health Proof Helsinki.
Paakkola acknowledges that Finland's health & life sciences ecosystem is younger and smaller than similar clusters in Sweden and Denmark. But he maintains this absence of legacy opens Helsinki up to more diversity in terms of the research that startups conduct.
"The other Nordic countries have strong ecosystems built around massive companies operating in specific fields. A lot of innovation gets pulled in those directions," says Paakkola.
"Here in Finland we have more of a blank slate for entrepreneurs, so we see startups exploring a range of different verticals."
"Finnish biobanks are another strength. We have fewer biobanks than other Nordic countries, and Finnish biobanks have common collaboration ecosystem Fingenius, making the access easy for researchers," he adds.
Investors find startup diversity in Helsinki
One of the most promising startup companies from Helsinki is Nanoform, a nanoparticle drug-delivery platform company that is listed on Nasdaq First North Premier Growth Market both in Finland and Sweden.   
Another notable Helsinki startup is Aiforia, an AI imaging-analytics platform for pathologists and scientists. The company has now struck a proof-of-concept deal with the renowned Mayo Clinic in Minnesota among others, and is being listed on Nasdaq First North Growth Market Finland.
Worth mentioning is also Noona, a solution originally designed to support cancer patients. It was spun out from University of Helsinki in 2018 and acquired by Varian, which in turn was later acquired by Siemens Healthcare.
More startups to watch are precision-radiotherapy developer MVision AI, and the non-invasive glucose-monitoring solution GlucoModicum. In quantum-computing, Algorithmiq is looking to the future with complex algorithms aimed at solving life-sciences challenges. In addition to these there are several other interesting innovations and startups in Helsinki Metropolitan region.
"Health and life sciences investors are typically focused on specific disease areas or treatment protocols. As the startups in the Helsinki ecosystem represent so many different sub-sectors of health and life sciences, there's a lot for investors to choose from here," says Lardot.
International investors looking to participate in Helsinki's health ecosystem also enjoy strong local support. Tesi is a state-owned body that makes direct investments into health and life sciences startups and funds. In 2022, Tesi invested EUR 151 million in 41 Finnish companies.
The sector also features strongly in the portfolios of several Finnish investment firms, including Innovestor, Voima Ventures, Icebreaker.vc, and others. According to the Finnish Venture Capital Association, a total of EUR 48 million was invested by VC investors (Finnish and international) in 21 biotech and healthcare companies in 2022. The health sector represented 10% of total VC investments of EUR 484 million in Finnish companies in 2022.
Ecosystem leaders like Lardot and Paakkola place a great deal of emphasis on matching investors with potential startups. Monthly meetings are organised where entrepreneurs can pitch their ideas. Some initiatives also bring together startups from across the broader Nordic and Baltic region. Lardot says this wider approach is valued by investors looking to grow their portfolios.
"We recognise that for an investor to find the right kind of startup – both in terms of its development stage and the therapeutic area it targets – it's often necessary to scan through all the innovation from all countries in the geographic region," he says.
"Bringing partners or investors into the Nordics usually plays out well for everyone. We have a lot of high-quality companies here doing great things, so I encourage all interested to be in contact and come and take a look," says Lardot.
Interested?
Contact Christian Lardot, Incubator Lead, Health Incubator Helsinki
christian.lardot@hel.fi, tel. +358 40 195 2639
Text: Andrew Flowers Photo: Messukeskus / Radical Health Festival